No Panty Day – a day without panties
Switch up your morning routine and forget about your underwear! No Panty Day is coming up June 22. And that means your panties can stay at home.
Ultimate freedom
Who doesn't recognise it: painful straps, seams or bows that cause irritation throughout the day. And those lacy edges on the side or top of your underpants? Great to look at, terrible to wear. Fortunately, once a year you get the opportunity to throw all these inconveniences overboard (or in the laundry basket). And that's during the summer season, too…. yay. Our advice: on a hot summer day, leave your briefs at home and wear a lovely airy dress or skirt.
Stylishly responsible
Not only is it nice to not wear tight-fitting underwear sometimes. Another great benefit of this day is that that super tight dress or skirt can finally come out to play. No ugly lines or pulling straps. No, just a smooth, tight look. No matter how thin that fabric is, there really won't be a single line visible. An advantage for you and for the fashion police.
No lingerie fuss
Especially if you like to wear suspender sets, this day offers a solution. You know the frustration, that thong or slip that just ruins the moment? You're standing in front of your partner in your suspender set, all ready to seduce them, and they're totally into it. One thing leads to another, and finally, there's the climax.

"How on earth do you get that underwear off without undoing those straps first?!"
But how on earth do you get that underwear off without undoing those straps first?! Have you just spent half an hour fastening those impossible straps, only to find yourself pulling them off again? And let's be honest ladies, completely off is not an option either. You haven't done your best to just throw your new set on the floor. Our advice? Just skip the panties and thongs for the day! Great to look at, very efficient and less laundry to do.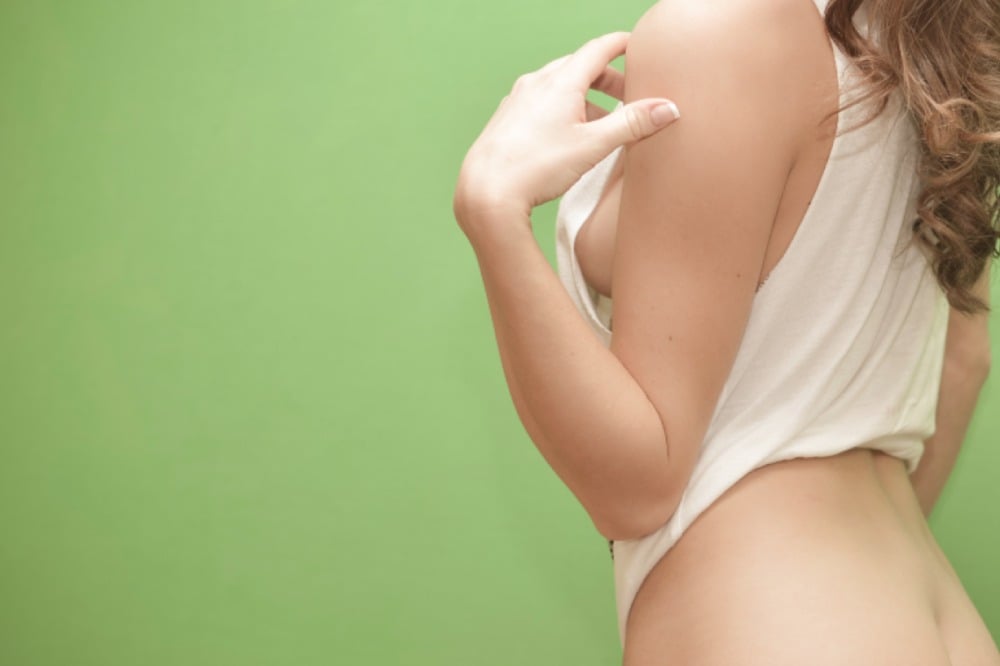 Sexy single day
No Panty Day is not only an appropriate time to be seductive when you're in a relationship. For sexy singles, this day also brings many benefits. First of all, you don't have to worry about matching underwear. The misery of just that one pair of panties that fits perfectly with that well-fitting bra, while exactly that pair is in the wash again… is over! Leave those panties in the washroom and go for the shade that matches every bra: skin! Oh, and we haven't even talked about one night stands yet. Because how terrible is the struggle when you're half drunk at 4:00 a.m. in the pitch dark, and you have to look for your panties in a room where you've never been before? Nope, the walk of shame is officially cancelled.
Surprise your partner on No Panty Day
Of course, No Panty Day is the perfect opportunity to surprise your partner. Give your relationship a sexy boost and bring your partner a hot surprise. And no excuses, we've got the perfect scenario for every occasion.

"Leave those panties in the washroom and go for the shade that matches every bra: skin!"
During a long day
Can't wait to see your partner? And do you want to celebrate No Panty Day right now? Then pay your partner a sexy visit. For example, you could surprise them at their office!
Location: your partner's workplace
What you'll need: a tight suit, (fake) glasses, a hair clip, and a clipboard.
Time: 8:00 a.m. – 6:00 p.m.
Outfit: a stylish outfit with a sexy twist. Do you need an easy position? Then go for crotchless tights. No one will know what naughty secret is hidden under that suit or pencil skirt.
After a long day
Imagine this: your partner comes home after a long day and then finds you in a skirt or dress without anything underneath. Bet all those worries and frustrations from the workday will have vanished in thin air.
Location: the kitchen
What you'll need: a good piece of meat, a deliciously aromatic dish and an ice cold beer
Time: 6:00 p.m. – 8:00 p.m.
Outfit: these moments call for a sexy waitress outfit or maid costume. Too last-minute to find a sexy costume somewhere? Then go for a sexy dress with an apron and a pair of high heels.
On a lonely day
Unfortunately, many women still celebrate special days without a loved one. A sad and lonely event. But fortunately, a solution has been found for that too: the webcam!
Location: any place with Wi-Fi and a socket
What you'll need: a webcam, an atmospheric lamp or candles, a chair and a short skirt
Time: the internet never sleeps 😉
Outfit: choose comfort and seduction. For example, you can wear a sexy negligee or a long babydoll.
Will you be participating in No Panty Day on June 22? Let us know in a comment below!
Tags
lingerie
no panty day
no underwear
sexy lingerie