The complete lube guide for better sex!
Lubricant (or lube) is no longer just for women who can't get wet enough on their own. Now, lubricant can take your sex life to a whole new level! However, sometimes it's hard to choose which one to use and it seems easy to get lost in all the options out there. From anal lube to silicone, we explain what to choose… and for which moment!
What do you use lube for?
Many people think that lubricant is only for women who suffer from vaginal dryness. But nothing could be further from the truth! Did you know that lubricant can give a whole new dimension to sex? It provides extra comfort and stimulation, but you can also use it for massages or oral sex. And what about using sex toys? Depending on what you want to use lubricant for, there are many different types on the market.
Types of lube
Water-based
A water-based lubricant is perfect for general use. You can use this type of lubricant with a condom, but also in the shower or during oral sex. The advantage of a water-based lubricant is that it's easy to clean and doesn't irritate the vagina. It's also very suitable for use in combination with a sex toy. The only drawback is that you need a lot of it during a longer sex session. A good water-based lubricant is EasyGlide's Water-based Lubricant. An affordable option we highly recommend!
Silicone-based
Silicone lubricants give you the best of both worlds: the arousing effects of oil and the safety of water-based lubricants. Silicone lubricants, such as EasyGlide's Silicone Lubricant, are waterproof, so they're great for use in the bath or shower. You can easily use them for a longer period of time or for massages, and they're safe to use on latex. You can also use them internally, as silicone molecules are too large to enter the body through the skin or tissue. Please note that silicone lubricant cannot be used with a silicone toy!
Anal lubricant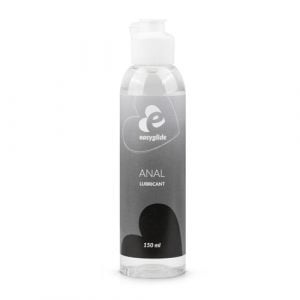 The anus doesn't naturally produce its own moisture and the thin skin is sensitive to cuts. That's why you should always use lubricant during anal sex. There are special anal lubricants on the market. These often have a thicker consistency and sometimes have a numbing effect, which relaxes the anus and makes penetration easier. A good anal lubricant that we recommend is the Anal Lubricant by EasyGlide.
Stimulating lubricant
In addition to making things run smoother, lubricants can make sex or masturbation more intense. For example, there are types of lubricant that provide a warming, cooling or tingling sensation for added stimulation. Warming lubricants make the muscles warmer, which results in better blood flow. They can also make the clitoris or glans more sensitive.

Flavoured lubricant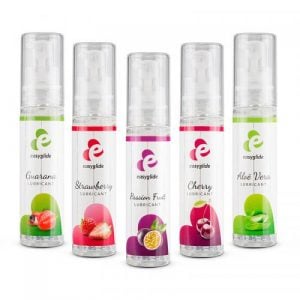 Flavoured lubricants are perfect to use during oral sex! It can give a blowjob or cunnilingus just that little bit extra. There are a lot of different flavours available, most of which are sweet. Fruit flavours, chocolate, espresso, sea-salt caramel: the options are endless. EasyGlide offers a number of lubricants in different flavours. Good to know: almost all lubricants are sugar-free, so they're not sticky.
Massage lubricant
An (erotic) massage is wonderful foreplay. But if you use a normal oil, it's important to wash your hands before you touch your own or your partner's erogenous zones. Many oils contain perfumes and other ingredients that aren't suitable for your most sensitive areas. And, massaging someone with ordinary lubricant is not really a very comfortable idea. Fortunately, there are many massage lubricants on the market – massage oils that are perfect for the erogenous zones. A lubricant and massage oil in one!

Lubricant for solo sex
Lube is also good choice when using a sex toy. This is because the toy will be much easier to insert. However, make sure you use a lubricant that can be used with your toy.
What should you keep in mind?
Oil-based lubricants cannot be used with latex condoms, and they ruin jelly toys.
A silicone lubricant damages silicone toys.
Water-based lubricants are suitable for everything except anal sex, for which you should use a thicker lubricant.
Vaseline is fine for clitoral stimulation but is not advised for use inside the vagina or with condoms.
Using oils that you'd normally cook with are great triggers for fungal infections, vaginal acne and latex reactions.
Do you like using lubricant? We'd love to hear about your experience! Feel free to share in a comment below 🙂
Relevant stories
Tags
anal lubricant
best lubricant
easyglide
flavoured lubricant
lube
lubricant
silicone lubricant
waterbased lubricant