10 things you didn't know about doggy style
The doggy style position is easy, tasty and damn sexy and many of us love to do it whenever the opportunity arises. But what do you really know about this popular position? Here are 10 things you probably didn't know about doggy style.
1. It's a favourite among men
A poll by Women's Health showed that doggy style is the number one sexiest position for men. Why? Men said they can go deeper than with other positions, the view is great, and the position feels "primal". Sex therapist Ava Cadell says that it's only logical that men feel this way – "an almost animalistic and instinctive way to be king of the jungle". In short, a man feels extra masculine with doggy style!
2. Surprise, surprise. It's also a fave among many ladies
A survey by Dred – in which no fewer than 2,000 people from all over Europe participated – shows that in a large part of Europe, doggy style is the number one position for the ladies as well. The missionary follows in second place, and the cowgirl (woman on top) gets a respectable third place. A remarkable fact is that doggy style doesn't come in first place for Dutch women. They prefer the missionary position.
3. With doggy style, you really hit that G-spot
With doggy style, you not only penetrate deeper than with many other positions, it's also a very suitable position when you want to hit the G-spot well. For that reason, a lot of women like this position. If you haven't been able to find the G-spot yet, then the doggystyle position is definitely something you should try. Moreover, with this position you can also easily reach the clitoris.
4. It's a perfect position for people with little room to move
There are countless people who like to have sex, but for whom it's not so easy. Think about pregnant women, people with backaches, or people who are a bit bigger. Many therapists have always recommended spooning as the most suitable sex position, especially for people with backaches. Still, scientists did some research and concluded that the doggy style is even better, as neither of you hardly has to move at all. Moreover, the movement doesn't let either of you get in the way as much.
5. This position is really old
If you think doggy style was invented somewhere in the last century, you're wrong! Ancient Greek and Roman literature and art confirm that doggy style existed centuries ago. However, chances are it goes back much further in time. Scientists believe that our distant ancestors originally had sex this way since so many similar species still mate this way as well.
6. Many animals do it doggy style
Not only dogs do it doggy style. Cats, giraffes, horses, camels, elephants, lions, and so on also do it this way. There are also animals that don't do it doggy style, like whales, dolphins, and spiders. Perhaps most striking is that primates such as chimpanzees – who in terms of body shape and lifestyle most resemble us – never mate doggy style at all…
7. A lot of songs are about doggy style
Artists seem to be fond of doggy style as well. There are over 1,800 songs about this popular position! From Snoop Dogg with Doggystyle to 50 Cent with P.I.M.P. Ever heard of the song Back That Thing Up by Justin Moore? This sexy country song is about sex in a barn and is definitely worth a listen! Curious about more doggy style songs? On Genius.com you can find them all in one place. Happy (sexy) listening!
8. Doggy style has many variants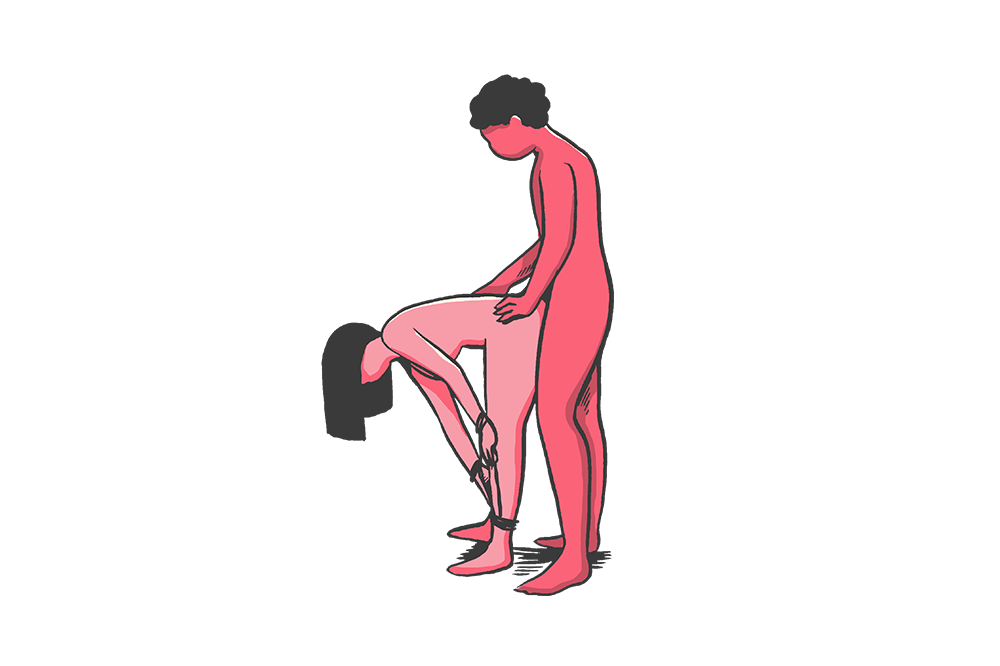 There are quite a few variations on doggy style. Think legs closed, legs open, upper body up, upper body down, standing bent over, standing upright and so on. Even the 'reversed cowgirl' – where the woman sits on top with her back to her partners face – can be called a variation of the doggystyle. There are certainly more than 15 positions that are very similar to the doggy position, but just a little different. Officially, all these variations have their own name, but I would say; just do the doggystyle the way you like it best!

9. It's the best position for men with a small penis
When a man has a penis that's on the smaller side, sex can be difficult for both the man and the woman. After all, you want to enjoy each other to the fullest and not disappoint anymore. No worries! With doggy style, you can penetrate deeper. This way, she will feel more and he can enter her well. Enhance the effect by leaning forward as a woman even more. You'll soon forget about his size!
10. Doggy style is also suitable for "other things"
When you want to try something different, such as anal sex, doggy style can be very suitable for that as well. After all, everything can be reached easily, and you can control the pace. However, a little confidence is need here, since you're in a rather vulnerable position as a recipient. Doggy style is also a very suitable position for rimming (licking the anus). No worries about keeping the buttocks apart, it's easy with this position!
What surprised you the most? And is doggy style your favourite position too? Share your thoughts in a comment below!
Relevant stories
Tags
deep penetration
doggy style
sex positions
sex tips