7 tips for sex in the shower
The shower is the ideal place to be intimate together. You're both naked, you couldn't be standing closer together, and the warm water runs along your shining bodies. Sex in the shower can be a refreshing change from your usual spot!
Tips for sex in the shower
While it always looks steamy in films, sex in the shower can be a challenge. Accidents can happen, and you don't have that much space to move around. It's important to know what to do to make sex in the shower as pleasurable and easy as possible. We'd like to give you 7 useful tips for a safe and sexy shower experience that you can't get enough of!

#1 Turn showering into an intimate experience
To get you in the mood, you may want to ensure some extra sexy vibes in the bathroom. You can dim the lights in the bedroom, but in the bathroom, this may not be a good idea. Do you find the light in your bathroom too bright, and does it get you out of the mood? Use a nice, scented candle, place some tea lights in the bathroom, or cover your lamp with some crepe paper. This way, you can keep an eye on what's going on and avoid a nasty slip.

Tip: Is the light in your bathroom too bright? Use a nice, scented candle or place some tea lights in the bathroom.
If you want to, you can put on some nice music, decorate the space with rose petals, or light some incense. Want to bet that your partner will immediately guess what your plans are? Chances are that your efforts will be extra rewarded in the shower!
Clean up beforehand!
Of course, creating the right ambiance also includes a clean bathroom. Make sure your shower is clean and remove any unnecessary items from the shower. The extra space that's freed up in the process is, of course, a good thing. A shower drain that smells or is full of hair is not very sexy, and a dirty (mouldy) spot on the wall certainly isn't either!
#2 Foreplay in the shower
Ladies first
Good foreplay leads to better sex. The shower gives you plenty of new opportunities to get in the mood for some hot sex together. Tease your man by getting into the shower yourself first and making him wait a little longer. The act of undressing and seeing you naked is incredibly exciting for him. Especially if you've made the bathroom a bit more intimate by using mood lighting.

"The act of undressing and seeing you naked, whether in the shower or not, is incredibly exciting for him."
Let him take a seat and start lathering up your body. When he can hardly hold back, let him come inside too. Take your time to lather each other up and slide your fingers along each other's hot spots. Discover and admire each other's bodies in a new and steamy way. After you're done, you'll be eager to get down to business!

Also read: These are the 15 most common erogenous zones
Playing with the shower head
Do you have a removable shower head? Let her adjust the jet and the temperature, and you've got yourself a nice toy to turn her on. Stroke and massage her at the same time. For example, stand close behind her and start kissing her slowly on the neck. If necessary, take the showerhead from her, so she has her hands free to do the same to you.

"Let her adjust the jet and the temperature, and you've got yourself a nice toy to turn her on."
#3 Oral sex in the shower
Before you start the real thing, it can also be nice to satisfy each other orally in the shower. You're both clean, and the running water makes everything go smoother. Move the shower head slightly towards the wall so that the other person can sit comfortably on their knees without water getting into their eyes.
If you have a higher step or seat in the shower, it can be useful for the woman to place at least one leg on it. This makes it easier for the man to reach her most intimate spots. You can also use a stool or footrest in the shower.
#4 Suitable positions for the shower
The shower is less comfortable and cosy to move in than, say, your bed. Changing positions in the shower is not always easy. Keep the mood sexy and avoid discomfort by sticking to one or two positions. Another thing is that not all positions are completely safe in the shower. As the two of you may not be the same height, and it's often quite slippery, we recommend getting it on with caution.
Standing doggy
The upright position is very similar to doggy style. This position is not done on hands and knees, but standing up. This is definitely one of the best positions for sex in the shower. The woman bends her knees a little and keeps them close together to keep her balance. The man can also hold her hips for even more stability.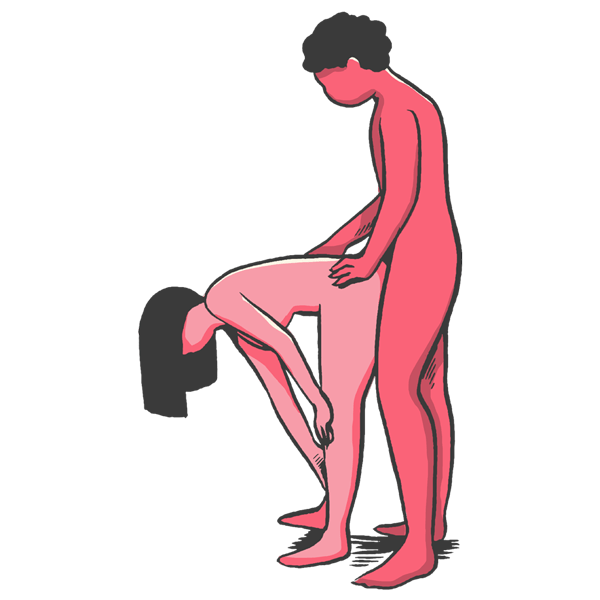 Also read: 10 sex positions for deep penetration
The standing candle
Are you both around the same height? Then it's also possible to have sex standing up, without things getting too acrobatic. Let her rest her back against the wall of the shower. With a little help from your back, you can lift up one of her legs a little. In this way, you can keep eye contact while making love. Trust is needed as well, as you're the one holding her up.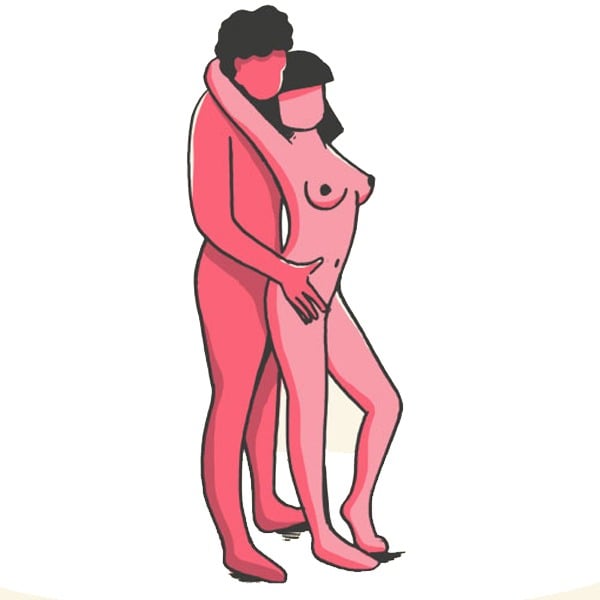 #5 Use a sex toy
If you want to make things extra special, there are also various sex toys you can take with you in the shower. Lather up your partner with a vibrating sponge, or cuff them with waterproof handcuffs and practice role play in the shower. Of course, you can always take your waterproof vibrator with you.
#6 Lubricant for sex in the shower
You'd think that all that water would make her wet. However, the opposite is the case. In most cases, the natural moisture of the vagina washes away in the shower. If there's a lot of friction, it's advisable to use some silicone-based lubricant. This lubricant cannot be rinsed off with water and has a long-lasting effect so that you can enjoy it for the entire session.

Tip: Make sure that you don't drop any lubricant on the floor. A few drops can quickly turn the shower floor into a slippery ice rink.
Also read: The complete lube guide for better sex
#7 Handy bathroom accessories
If you really feel like getting it on, it's advisable to get an anti-slip mat for your shower. This way, you're both standing firm and stable, minimising unhappy accidents. A footrest can make certain positions easier to do, so you can have sex even with a difference in height. For your comfort, it can be nice to cover the bottom of the shower with two washcloths to rest your knees or other body parts on.

Tip: With an anti-slip mat, you'll always have a firm surface to stand on, making shower sex much easier!
Do you have a good tip for sex in the shower? Let us know in a comment below!
Relevant stories
Tags
sex in the shower
sex tips
shower sex