Bondage techniques for the bedroom explained
Bondage is part of BDSM. It's an erotic game that revolves around restricting someone's freedom of movement. To get started with this in the bedroom, you can use different techniques. You'll find some helpful insights below!  
Bondage and Discipline
BDSM stands for Bondage and Discipline (BD), Dominance and Submission (DS) and Sadism and Masochism (SM). Bondage and Discipline often go hand in hand: restricting someone's freedom of movement is often combined with exercising control. The person who's tied up is often the submissive (also called sub) and hands over control to the Dominant (Dom).

Various bondage techniques
In addition to tying someone to an object (such as a bed), bondage can also be used to keep body parts together or pull them apart. In this way, some parts of the body can be opened or spread. This allows for certain sexual acts, such as oral sex or stimulation with a sex toy.
Apart from depriving someone of their freedom of movement, bondage can also include experimenting with restricting their senses. For example, you can try silencing someone with a ball gag or depriving your sub of sight with a blindfold or bondage mask. Many bondage masks are designed to cover the mouth, eyes, nose and ears.

Self-bondage
Bondage is a wonderful and kinky way to bring out your sinful side. One of the most advanced forms of bondage is self-bondage: bondage without the help of a partner. This advanced style carries more risk than other forms. There is a chance that something could go wrong. In such cases, there's no one around to intervene. The consequences can be very serious.
Tips to perform self-bondage safely:
Avoid using mouthpieces or mouth masks.
Make sure a partner is present in the same room.
Use toys with quick-release closures. These closures can be quickly and simply released.
Avoid handcuffs, ropes and straps that are too tight.
Safety first
Before you begin experimenting with bondage, it's important to discuss what you'd like to try. Often, you won't really know what you like until you've tried it. However, never force another person to do something. To avoid unpleasant and dangerous situations, it's important to agree on a stop word or stop signal. The sub can use this to indicate a boundary. The Dom should never ignore or disregard this word or signal.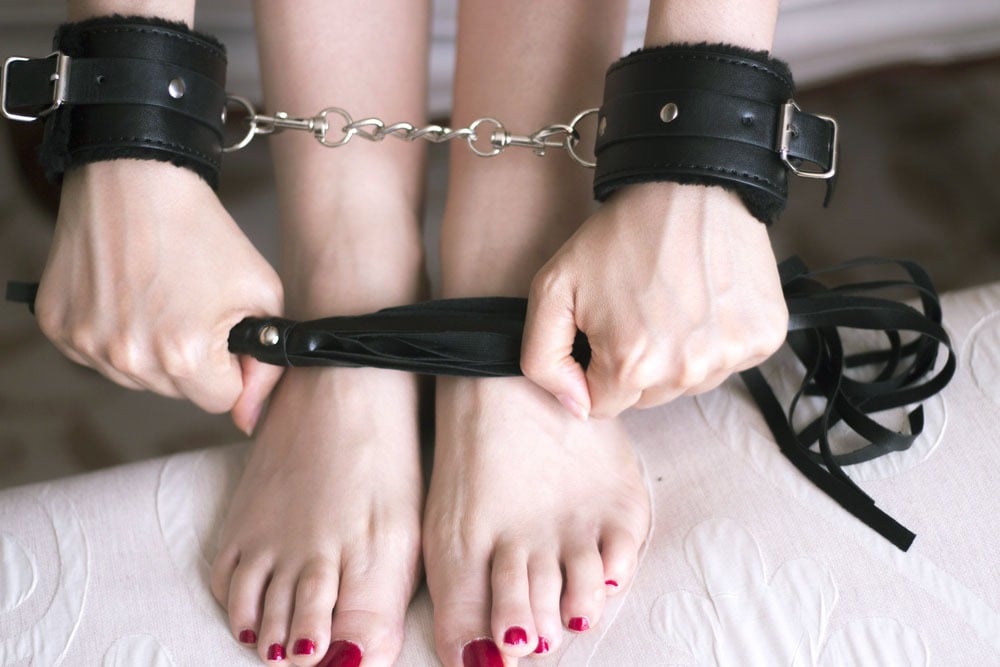 Bondage toys and how to use them
Easy to use: bondage tape
Bondage tape is a simple yet versatile product. The tape is made of PVC. The great advantage of bondage tape is that it's easy to use: you can tie up the sub, but also easily release them again. The tape doesn't stick to the skin, as it automatically sticks to another piece of tape. That's what makes this product particularly suitable for beginners!
Make sure that the tape is not too tight, unless this is what you'd like during the session. Severe pain, tingling and numbness are signs that the tape is too tight. Always have a pair of bandage scissors ready as a precaution so that the tape can be easily cut loose if needed.

Tip from the editors: Instead of bondage tape, you can also buy a roll of cling film (like what you use in the kitchen) at your local supermarket.
Bondage rope
Would you like to take it a step further? Maybe bondage rope is something for you. Rope is rougher than bondage tape, so it's very suitable for tying body parts. The rope causes the tied-off part to swell. This can have an arousing effect and creates a pain stimulus.
There are several types of rope available. Cotton rope is relatively affordable and soft to the touch, but it should be washed and dried regularly to keep it clean. Hemp rope is stronger, but also feels rougher than cotton. Jute rope looks nice but isn't as strong as hemp. Finally, there are ropes made of plastic. These are very strong, they have a short drying time, and they're not susceptible to mould. However, using plastic rope does create the risk of a friction burn (sometimes called 'rope burn')

Please note! Never tie off a body part for more than 15 minutes and pay close attention to body language and signals.
Also read: Shibari – Japanese bondage for beginners
Using cuffs
Cuffs are great for restricting the sub's freedom of movement. To do this, different types of cuffs can be used:
Tip! Don't know where to start? Choose a bondage set!
Bondage Spread Eagle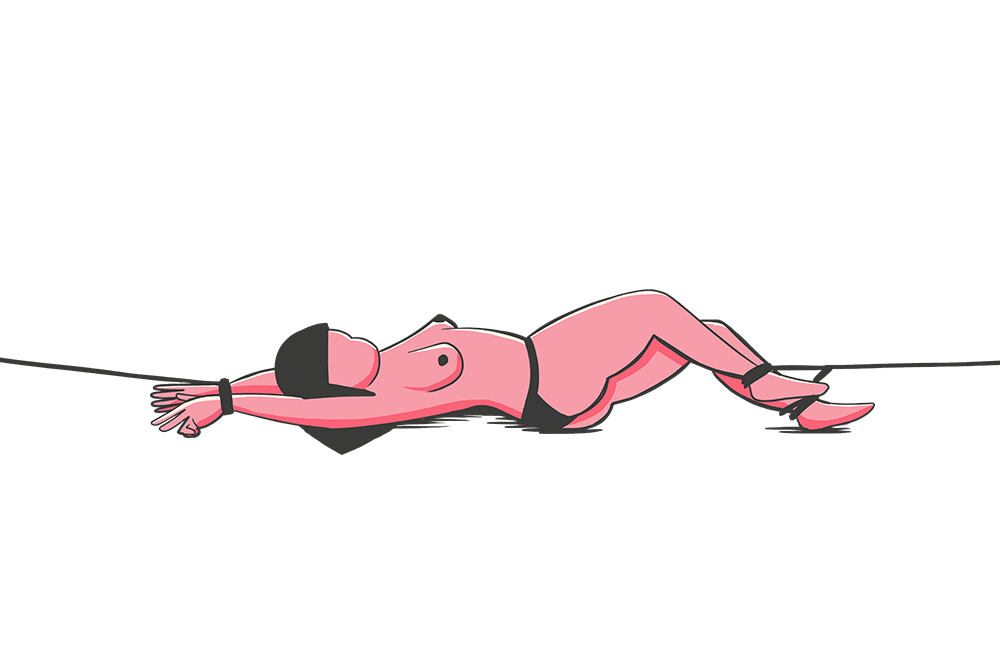 The Spread Eagle is a well-known bondage position. If you have a headrest or footrest to which you can attach the cuffs, you can perform this position with most types of cuffs. If you don't have this, then a spreader bar is an excellent alternative!
You can spread the arms and legs of the tied partner with a spreader bar, making the body lie in an X-shape. You'll have full access to stimulate the tied person orally, vaginally or anally
Hogties and bondage harnesses
A hogtie is a bondage toy that ties the hands and feet behind the partner's back. Do you want to tie several body parts in the front? Bondage harnesses are very suitable for this. Once you're used to bondage positions that tie your partner's limbs together, try bondage that spreads the limbs. To do this, attach the ankles to both corners of the bed. You can then secure the wrists to the frame of the bed. A bondage harness is an ideal toy for doing this!
Hogtie sex position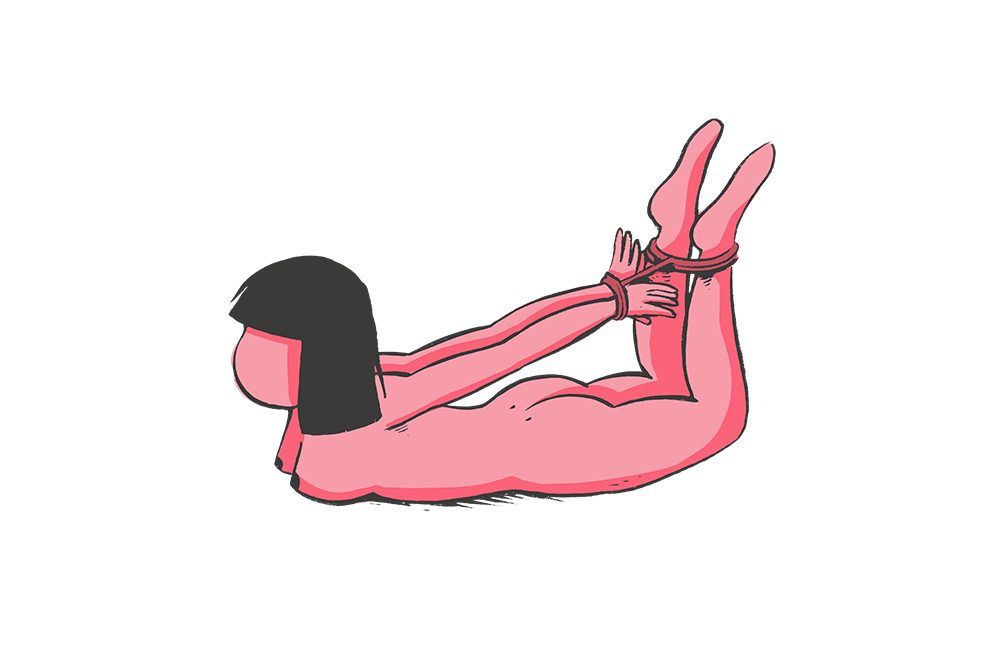 The partner that's being hogtied lies on their stomach and reaches for their ankles with their hands. The leading partner can then use the hogtie to secure the wrists to the ankles. The position doesn't really lend itself to penetration, but it's still very arousing as the tied person is completely at the mercy of the leading partner.

Also read: Everything you need to know about spanking
Restricting the senses
In addition to restricting someone's freedom of movement, you can also play with depriving them of their senses. For example, a BDSM mask can be used to deprive someone of sight. Do you want to silence your sub? Then a ball gag or bit gag is something you may want to try out.
Do you love engaging in bondage? Or would you like to add bondage to your sex life?
Relevant stories
Tags
ball gag
BDSM
blindfold
bondage
bondage harness
bondage rope
bondage sex positions
bondage tape
bondage techniques
bondage tips
bondage toys
dominant
handcuffs
hogtie
S&M
submissive