6 tips for giving a mind-blowing blowjob
An increasing number of women are wondering about the best way to treat their man. One major topic of interest is how they can orally satisfy their boyfriend, 'friend with benefits', or husband. That's why we'll be answering the question: how do you give a blowjob? Read these 6 blowjob tips and find out how you can best treat your man.
1. Don't go straight to your goal
Believe it or not: men also need to have the chance to get turned on. Start at the top and work your way down. Kiss his neck, lick his nipples, and massage his shoulders and belly with your hands. Tease him by not taking him directly into your mouth. Try some kisses around his groin or squeeze his bum as well.
By the time you're ready for the real thing, chances are that he'll be hard and excited too! But even when you take his erection in your mouth, you don't have to put it directly in the back of your throat. Grab his male member firmly and slowly curl your lips around his glans. Let your tongue slowly glide over the tip and move your hand up and down at the same time. Then, if necessary, increase the pace.
2. Alternate techniques
You may choose to keep doing the same – he'll probably come from this without any problem. However, this isn't really the most fun for both of you, because you can get a lot more out of a blowjob! One thing you can switch up is softening (or tightening) your grip on his penis. Or instead of licking all the time, you can also gently start to suck. Go ahead and try thrusting his penis deep into your throat instead of just using your lips and tongue.
Another thing you can do is slide your tongue up to his glans from the base of his penis – as if you're trying to save a drop of melting ice cream from dripping down the cone. Finally, you can find the opening to his urethra (the place where both urine and semen come out) with the tip of your tongue and penetrate lightly (not too hard). See? There are a lot of new things to discover!

Tip! Want to make it even more enjoyable for yourself? Try flavoured lubricant!
3. Pay attention to his balls
A man's balls are very sensitive, yet many women ignore them. That's truly a shame, because often men really enjoy it when you play with them! Even just holding them can be very arousing for him. You can then gently massage and lightly pull on them. Don't squeeze and pull too hard, as this can be extremely painful.
If you want to go a bit further, you can also kiss or lick him there. After all, gentle sucking in this area is a favourite for many men. You can do this by taking a ball in your mouth or just sucking on the skin. When you do this, you can keep jerking him off with your (other) hand.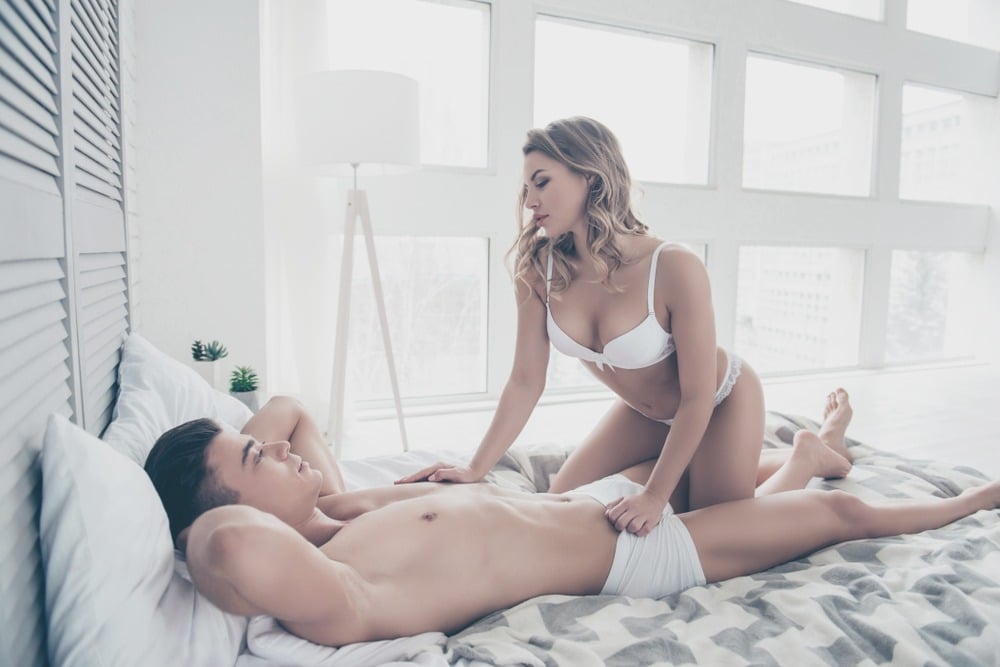 4. Don't forget these sensitive spots
Apart from the fact that his balls are very sensitive, there are other spots that you may want to pay more attention to. These are a few things you can do to really treat your man.
Pay attention to his frenulum. The frenulum is the thin piece of skin that connects his foreskin to the head of the penis. Let your tongue go up and down over this area for some nice stimulation.
The underside of his glans is also sensitive. This edge is also called the corona. You can reach it by gently pulling the foreskin a little further down. Slowly let your tongue go over it.
Not every man likes this, but there are certainly some who can appreciate it: massaging his perineum. The perineum is the skin between his scrotum and anus (for women, the perineum is between the vagina and anus). When it's clear that this area is not off-limits, you can place your finger(s) on his perineum and rub it gently. You can put a little pressure on it for extra sensitivity.
5. Make eye contact
Men are also looking for intimacy during sex. And you can create that perfectly by making eye contact with him. You don't have to stare at him all the time, but exchanging a glance every now and then is a great move! Additionally, by looking at him, you can see how he's responding to your blowjob skills. Don't forget to pay attention to the sounds he makes as well.

Tip! By making eye contact with him, you can see his reactions to your blowjob. Pay attention to the sounds he makes as well.
Men generally make noise during sex, just like women. It's a good sign when he gently moans or breathes heavily from time to time. But you can also let him know through sounds and some eye contact that you really enjoy giving him a blowjob. Chances are that it will turn him on even more!
6. Avoid these things
Now that you know what you should do during a blowjob, it's also good to know what you'd better leave out:
Using your teeth. Men are very particular about their male members. Because the penis is so sensitive, teeth can quickly become painful. Try to keep your teeth out of the picture, unless he asks for it.
Sucking hard. For many men, hard sucking is not desirable. A glans is almost as sensitive as your clitoris. It can feel unpleasant or even painful if you suck on it too hard.
Dry mouth. Men want your mouth to be warm, soft, and moist – just like a vagina, actually. If your mouth is dehydrated, it can feel less pleasant for a man. It creates more friction, which is exactly what you don't want! You want it to glide. Can't make more saliva? Try using a little lubricant.
Too much roughness. It's fine to hold his penis firmly, that's no problem at all. But when you pull, squeeze, or suck hard, it will not feel good for a man. After all, it's still a sensitive part of his body. He wants you to treat it with respect!
Do you have a great blowjob tip? Share it in the comment section below!
Relevant stories
Tags
best blowjob tips
blowjob
blowjob tips
fellatio
first blowjob
first time giving a blowjob
giving a blowjob
how to give a blowjob
oral sex