A pussy pump is a toy you won't find on every bedside table but some women really do have one. Also, some women are just curious. Are you curious and want to try a pussy pump? Don't know exactly what it does and how it works? Don't fret! We'll go over everything step-by-step in this blog.
What does a pussy pump do to your vulva?
With a pussy pump, you can create a vacuum around your entire vagina, labia and clitoris. More blood is pumped to the vagina so it will swell up and feel more sensitive. This way, every touch is more intense! You can pump the vagina with the squeeze ball or bellows. Place the sucking part on the desired erogenous zones to make the vagina swell. Do pay attention to how you work: a vagina pump is not a toy to use just like that. That means you should always follow the steps below!

Prettier and fuller labia
Also when you are looking to obtain fuller and prettier labia or a more appealing look for your partner, these toys can help. Women who are insecure about their labia can get more joy out of foreplay and sex with the vagina pump! The pump can even determine whether or not you have an orgasm. Because of the increased sensitivity, many women are able to reach a sexual climax sooner!

"With a pussy pump, you can get more joy out of foreplay and sex!"
Who is the pussy pump for?
A vagina pump may look a bit daunting at first. It doesn't look like an average sex toy and can't be compared to a vibrator. A pussy pump has (several) buttons and accessories.
Before, vagina pumps could only be admired among the selection of BDSM toys but that's all in the past now. This sex toy has found its way into the bedroom! Actually, a pussy pump is a very accessible sex toy.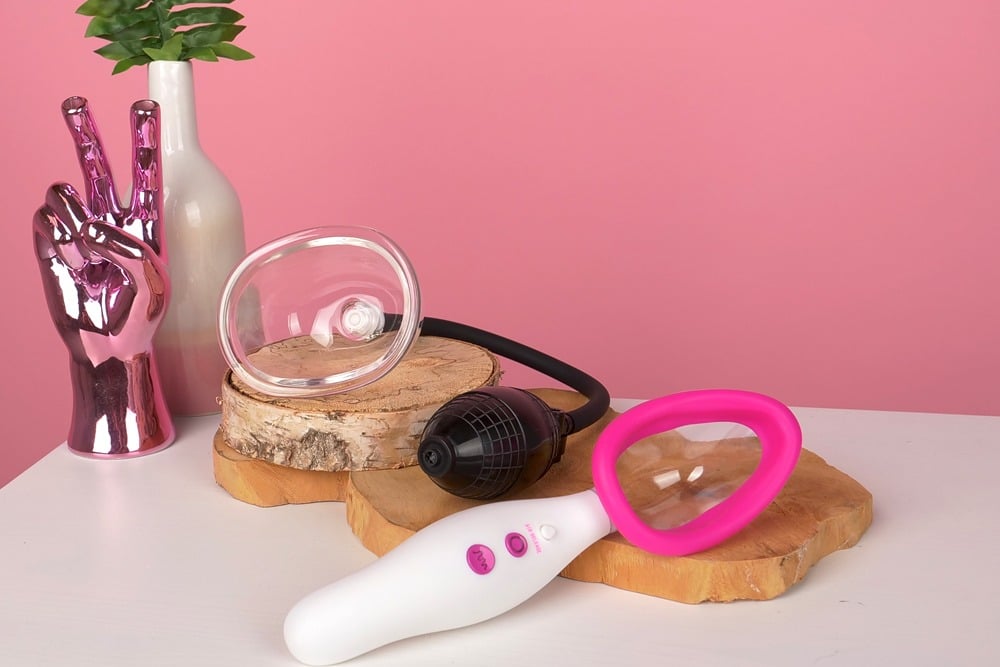 This is how to use a pussy pump:
Apply some lubricant to the outer rim of the vagina pump. This ensures that the pump not only feels more comfortable, but also that the vacuum is created more easily.
Make sure the valve of the pussy pump is closed and doesn't release any air.
Press the pump against the desired area. Some pumps cover your entire vagina, others only cover the clitoris.
Keep one hand on the suction cup and pump until your pussy pump is 'stuck'. Keep pumping until you see your labia swelling. This may feel a bit strange but it shouldn't be painful! Pay attention to your skin. Once you feel that it's all the way up and touching the suction cup, the pumping gets harder and you can get bruises.
Open the valve again. Slowly remove the pussy pump and enjoy your beautifully swollen labia and the sensitivity of your clitoris and/or vagina!
Safety tips
It is very important to keep a number of safety tips in mind in order to prevent damage to your vulva. Especially if you use the pump with your partner or for the first time. Read the tips below.
If it's starting to feel uncomfortable, stop! It may feel a bit strange at first but using a pump shouldn't be painful.
Don't overdo it. Pumping to the maximum may cause injuries and you might even damage the Pussy Pump.
Using a vagina pump is completely safe when you limit your use to just a couple of minutes per day. Permanent swelling can only develop when you use the pump for longer periods of time and several times a day.
"Prevent serious damage to your vulva using these tips."
Find a pump that is closest to the measurements of your vulva in order to prevent disappointment. A pump that has an oversized suction cup can damage the area around your anus, a pump that's too small is especially clumsy because it doesn't reach the desired area. Measure your vagina by starting just above your clitoris and end all the way at your perineum (the area between your vagina and anus). Also measure the diameter yourself by going from one side of the bikini line to the other. Find a pump that is closest to the measurements of your vagina.
You can easily have sex or masturbate after pumping but use plenty of lubricant – the vacuum can cause a dry feeling!
Do you have any questions about the use of a pussy pump? Or do you want to share your experience with us? Leave a comment down below 😉
Relevant stories
Tags
clitoris pump
pussy pump
sex toys
toys for women
vagina pump