10 romantic ideas for a winter outdoor date
Baby, it's cold outside. But that's no reason to stay inside all day, because also – and sometimes especially – in winter, there are beautiful outdoor locations that are very suitable for a romantic or active outdoor date! So put on your warmest winter coat or snuggle up to your partner and discover these 10 ideas for winter dates.
Ice-cold inspiration
In the winter, it's always a bit harder to come up with fun places to go with your partner or new flame. We thought it would be fun to give you some inspiration for fun dates in winter!
#1 Walk through the city
The easiest option is to take a walk through your own city. Choose places you'd normally never go and explore them together. A walk in the woods is nice, but if you really take the time to walk through your own city, you'll be amazed by the new places you've never noticed before.

#2 Winter market
Some people love the idea of a flea market or city fair. Others find it rather dull. But one thing is for sure: walking around a winter market with your lover can be super romantic. Let your partner pick out something nice at the vintage market or score some cheap and tasty fresh fruit at the fruit stall. Buy a warm apple pie, drink hot chocolate, pick the snowflakes from her hair or pull him towards you with his scarf for a kiss. Can it get any more romantic?

"Pick the snowflakes from her hair or pull him towards you by his scarf for a kiss."
#3 Walking in the forest
A walk in the woods is always good. In summer, spring, autumn or winter. The forest is beautiful in every season. And it offers a lot of privacy to focus on each other.
#4 Ice skating
Aah, ice skating on a first date is really something you see in all the romantic Christmas movies. Find a nice skating rink and dress warmly. This is especially a fun date if you're a little nervous and don't really know what to talk about. Awkward silences on the ice rink rarely happen! You, on the other hand, can fall! But then again, that's often a nice (literal) icebreaker. A date where you do an activity is almost always a good idea.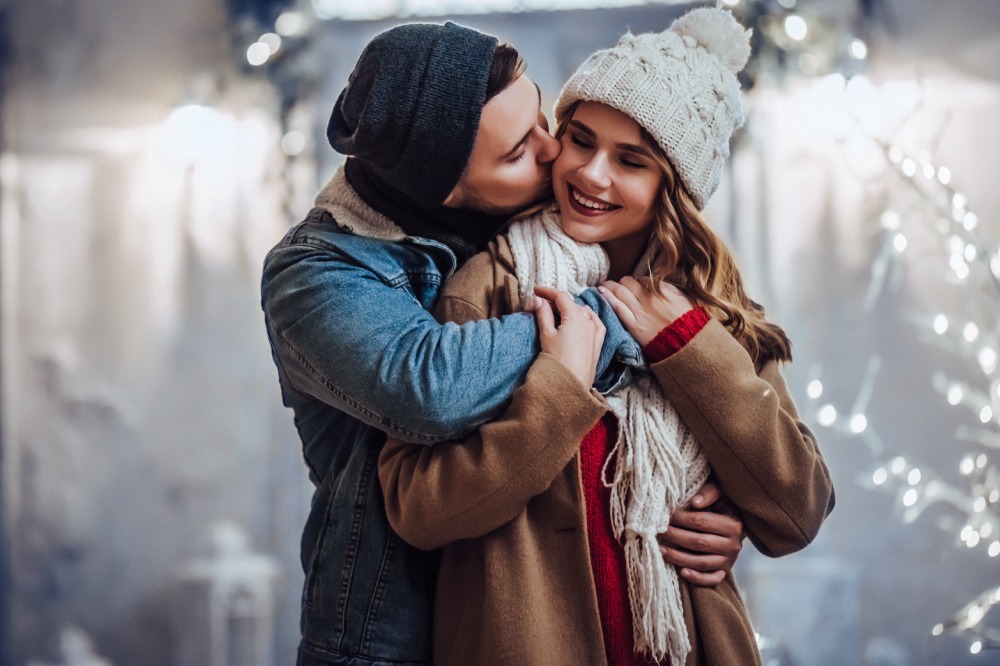 #5 Beach walk
Don't think of the beach in winter? Well, then we have a great tip for you! The beach is also beautiful in the winter. Of course, it's extra cold because of the strong wind, so you have to dress warmly! But after a long walk on the beach, you have even more reason to snuggle up together inside 😉
#6 Touring with a winter playlist
Do you like the winter nature, but prefer to be warm inside? Then go on a tour of the country together! Make a basket full of delicious food and drink and go out together in the car! Discover the most beautiful places in the country and enjoy them from the comfort of your car. Get to know each other well during conversations on the motorway or shout along to your own (winter) playlist! Do you know each other a bit better and are you ready for some excitement? Then you can make it really hot in the car…
#7 Sledging
A bit cliché and perhaps a bit childish, but so much fun! Of course, there has to be snow for this date idea to work. But if it does, you can get ready for an afternoon of sexy snow fun! Make a snow angel, throw snowballs at each other, and pull each other on a sled. Showering together afterwards to warm up isn't a bad idea either 😉
Baby, it's really too damn cold outside❄
Are you a real shivery person and don't like the cold? Or a blizzard is raging across the country, but you've still got a date planned? Then get inspired by these three winter date ideas for inside.
 #8 Game night
Netflix and chill is so 2020. It's fun watching films and series, but an evening of gaming is much more sociable. And you can immediately see how competitive someone is! You get to know someone much better while playing a game than while watching a film. Not into online games? No problem, an evening of old-fashioned Pinball or Yahtzee is just as much fun! Looking for a bit more excitement? Then go for an erotic game.
#9 Build a blanket fort
This idea might make some people cringe a little because it's so overly romantic. But put your pride aside and make a fort together out of pillows, blankets, and chairs. Do this over a favourite drink and good music. Bet this will be an evening to remember!

"This will be an evening never to forget!"
#10 Cheese or chocolate fondue
Love goes through the stomach, right? There's something very cosy and romantic about fondue. However, cheese makes you feel very full and depending on your plans for the rest of the evening, this may not be the best idea. Instead, opt for a chocolate fondue with fruit. A little lighter on the stomach, and sexier too.
What's your favourite winter date?
Relevant stories
Tags
date ideas
dating
dating tips
sex outside
tips for couples
winter dates